Our company, founded in 2010, is one of the largest fish processing companies in the Far East and the only fish cannery in the city of Vladivostok. The geographical location of the enterprise in the city gives us a competitive advantage. We are as close as possible to the consumer. We can offer a convenient and efficient logistics solutions. On the territory of the plant is its own railway siding. For road transport there are convenient approaches, which do not intersect the city roads. Volume of refrigerator is more than 12,000 cubic meters. Warehouse at the same time make it possible to accumulate a large amount of feedstock, finished products and auxiliary materials.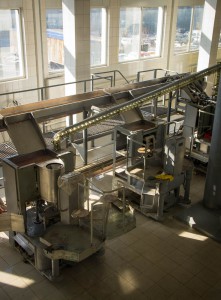 Products presented by wide assortment:
Natural canned fish. Li>

Canned fish, natural with oil addition. Li>

Canned Pacific salmon natural and natural with oil addition. Li>

Canned fish in tomato sauce. Li>

Canned seaweed. Li>

Canned marine invertebrates with seaweed, sea cabbage in tomato sauce or oil. Li>
All assortment is manufactured from fish of the Far Eastern basin.
The main priority for us is the quality of the products. In our canned goods we do not use preservatives (only salt). As a raw material we use frozen fish not less than first grade. Qualified technicians of our company, which have a wealth of experience, monitor the process at each site. Due to this we are able to keep the quality of the products on top.